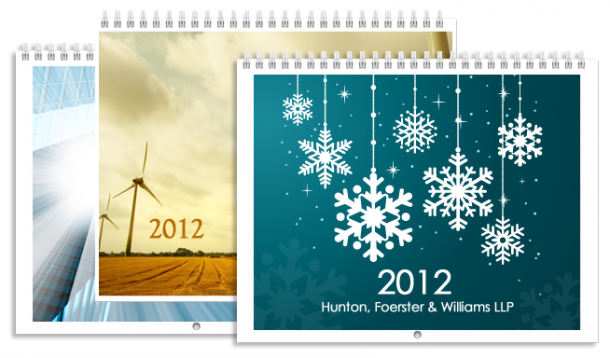 Every year, I get a ton of marketing materials from the companies and vendors I've used. My mailbox fills up with pens, sticky notes and squeeze balls. All of these toys go to my children. My daughter loves to doodle and my dog likes chewing. But the one promotional piece I never give away is a calendar. I always need calendars. And for some reason, I never have enough. That's why promotional calendars are great branding tool for small and large businesses. The trick is creating a promotional calendar that makes the wall.  And that's where Picaboo can help.
Picaboo makes it easy to create a one-of-a-kind calendar. You can pick from over 40 calendar design themes or create your own. We also have over 20,000 backgrounds to help add dimension and texture to your calendar pages. You can also add text and images to the date boxes. This means you have almost 30 branding opportunities for each page! Picaboo also remembers your dates, so you won't have to remember them year after year.
To get started, you'll need to find an image for each month. Along with these 12 images you may also want to include an image in the text boxes. If you don't have a lot of photography to choose from, several stock warehouses offer great royalty-free images. Dreamstime, iStock and Getty Images offer a wide selection of great stock images. You may also want to include some embellishments to further pop your design.
Here are a couple of things to think about when creating a business calendar.
This is your ad space. Feel free to promote your services or products every month. This calendar will double as your portfolio, so let your accomplishments ring. Highlight your anniversary dates, employee's birthdays and feel free to include images of your products or services.
Use the date boxes to educate your customers. If you're a mechanic, include reminders for checking your breaks, tires and wiper fluids. If you're a realtor, highlight the best times to sell your home or things to keep in mind when you're buying a home. If you own a bakery, why not include a brief history about pies or those special cookies you sell? These fun elements add personality to your brand and help position your company as an educational resource.
Use the monthly pictures to showcase happy customers or some of the products you sell. If you can, grab some testimonials from your customers.
If you want to add humor, include funny holidays like National Pickle Day or Talk Like a Pirate Day. These unexpected dates add whimsy to your calendar and make for a more memorable piece. Here's a great website for finding fun holidays.
Selecting the right picture for your cover is important. The image you pick will sum up the theme of your calendar.
If you're a local business, highlight local events in the date boxes. You can also showcase local or historical landmark pictures as your monthly images.
Include a call-to-action on several pages. This includes your URL, phone number, email and physical address. Give your customers a way to reach you.
If you're thinking about sending our corporate holiday cards, take a look at this
helpful guide
.