Around this time of the year, most parents are getting their kids ready school. And with a new school year comes new opportunities. Not just for kids but also for the parents. Last year, Picaboo expanded into the Yearbook market and created a revolutionary program that makes it easy to create a one-of-a-kind yearbook for schools, religious organizations, clubs and groups.  Did you know there are more than 300,000 churches, thousands of military units, clubs, teams, summer camps and corporations that order yearbooks? And don't forget the 1.5 million home-schooled children who use yearbooks to mark the end of an exciting year. With those types of numbers, you can see how the potential is BIG.
That's why we're opening our doors and looking for parents interested in joining the Picaboo Yearbooks Independent Dealer Network. We're looking for parents who have sales experience, an entrepreneurial vision and are looking for a career with a flexible schedule. We're looking for someone who enjoys: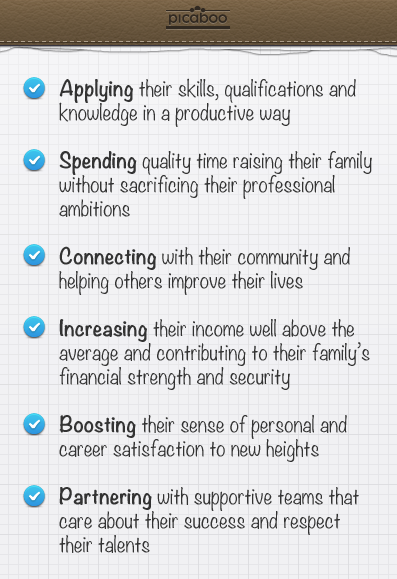 Does this sound like you? If so, you may be the perfect candidate for our Dealer Network. As a Picaboo Yearbook Network Dealer, you'll connect with schools and organizations in your area and help them see why Picaboo Yearbooks are cost-effective, easy to create and more customizable than traditional yearbooks. Along with a flexible schedule, you'll have also the support and backing of Picaboo, a leader in the photo application software business.
Picaboo is one of North America's leading photo book providers with over 1 million active and satisfied customers. Leveraging their innovative software, Picaboo has created a new way to create a yearbook. It's fast, customizable and financially beneficial to schools.  Most traditional yearbook companies make schools order a certain number in advance, which means most school lose money and are stuck with extra yearbooks at the end of the year. With Picaboo, schools can order the exact number of yearbooks they need. Making this a sustainable fundraising opportunity for schools and an easy sell for your Sales Team.
In this role, you'll connect with schools and organizations in your area and help them discover just how beneficial, different and affordable Picaboo Yearbooks truly are. Plus, you'll make your own hours. And the best part: Your schedule aligns with the school calendar. When the kids are off, so are you!
Want to know more? Visit Picaboo Yearbooks to learn more and apply!