Is your Dad amazing?  Mine is.  Let me tell you a little bit about him.  First of all, he is 75 years old and weighs about the same as he did in high school.  How many of us can say that?   My dad took up water skiing in 1983, right about the time my second child was born.  He was about 46 years old.  Since then he has become a water ski fanatic!  The man can ski better than people DECADES younger than him.  My own sons, who are 30 and 28 cannot keep up with him.  Dad has had three shoulder surgeries, but that has not kept him from water skiing.  This past year, my cute dad was diagnosed with two types of cancer and had a kidney removed, but he's still planning a trip to the lake in June and hoping to water ski.
On a recent ski vacation to Lake Powell, Utah, my husband took some amazing shots of Dad in action.  I had a great idea – I should make him a photo book showcasing these amazing shots.  And I plan to do just that!  It will be an amazing Fathers' Day gift.  I plan on using the Classic Custom Cover (my favorite book style) and ordering the lay-flat pages to showcase the amazing scenery of the beautiful Glen Canyon-Lake Powell area.  Can you just imagine how this photo will look as a two-page spread?  I can't WAIT to get started!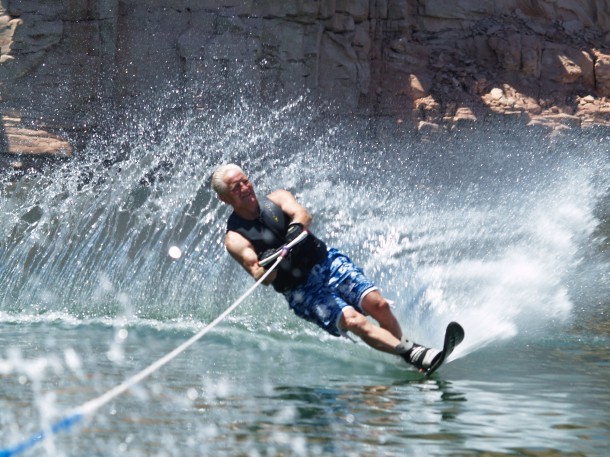 Does your Dad have a fun hobby or interesting skill?  Does he restore old cars, refinish furniture, dabble in photography?  Picaboo photo books are a great way to preserve precious photographs of your Dad doing something he loves.  What could be more perfect for Fathers' Day?
What do you plan on getting your Dad for Father's Day? Need some gifting inspiration? Check out these 9 gift ideas you can make of under $20.