Did you know you can add embellishments to your Picaboo photo book and calendar pages? In Picaboo X, use any alpha channel ".png" or transparent ".png" file (aka ClipArt) to jazz up your pages and give them a dimensional, crafty feel. If you don't have some already, you can get digital scrapbook elements as paid or free kits on a variety of websites.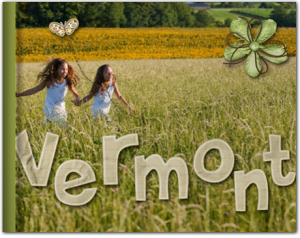 Kits are usually available for download as a set, and in the download file (normally a .zip file) you'll see all of the elements of the kit saved as separate files. There are backgrounds, alphabets, numbers, ribbons, flowers, pins and just about anything you can imagine.
If you don't have the time to search and use embellishments on all of your pages, or you're new to this, try just one or two to spice up a custom cover book or the front of your calendar. It's fun and can really take your Picaboo project to the next level.
Here's a list of a few sites where you can download some freebies:
If you know of other great sites, add them as a Comment below for us all to check out.
Once you have your kit downloaded and unzipped into a folder on your computer, here's how you add them to your pages:
In Edit Mode, click "Get Photos" and navigate to the folder on your computer where you saved your unzipped kit files.
Select the embellishments or page kits you want to use and click "Finished". The embellishments/kits will appear in the photo tray beneath your book, calendar or card (your "project").
Drag and drop them onto the page of your project (if prompted, select "Add new photo").
Click on "Photo Tools" in the sidebar to the left of your project and scroll down until you see the shadow and border settings. Uncheck the box that says "Border". You can choose whether to leave the shadow on or not.
Resize and adjust the placement of the embellishment as desired.
For those of you seeking round or shaped photos in your books, look for paper/page kits that have cutouts. Then, after you have saved and unzipped the kit that contains the cutout, follow the directions above (add it to your page as a photo, not a background). Then send your photo backward, or bring the cutout forward and align your photo in the cutout.
If you have any questions, ask them here in this post and we'll be happy to help you…and so will other Picaboo'ers that are familiar with adding embellishments into their Picaboo projects.
Enjoy!