This article was written by Rachel Logan. You may remember her from the beautiful cookbook that celebrated pie and her grandmother Billie. Or you may recall her article about the effects of natural light when photographing food. Recently, she took a trip to Europe and captured all of her memories using Instagram, a fun photo app. When she got home, she made an amazing book that she agreed to share with us.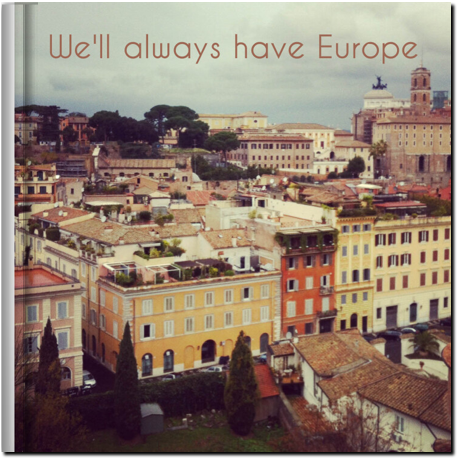 ***
I don't know about you, but I literally always have my phone on me. It's basically an extension of my body, an appendage as it were. I can't say I'm particularly proud of this development since it annoys me when I see people who are unable to have human interaction without their phone right in front of their faces. Although I do my best to avoid this, I've caught myself a few times looking at my phone when someone is talking to me which resulted in a proverbial slap on the wrist and me quickly sliding the phone back into the dark confinement of my pocket. As all-consuming as smart phones can be, they can also be amazing tools when used properly and in the correct context. With the development of over 500,000 apps, you have the whole world at your fingertips. You can fight off zombies, send your latest shopping list to a personal shopper and take an artsy picture of your adorable kids reenacting a scene from Dora the Explorer for all of your closest 346 friends to see instantaneously. It's undoubtedly an amazing world we live in.
One app in particular has taken permanent residence in my mobile world. Instagram is a photo app built for the iPhone that simply applies filters to photos taken with the built-in camera and allows you to share it with those who follow your feed. For someone who loves to document moments with a camera this is a lovely way to do so on the go. A little over a month ago my husband and I travelled to Europe and while he carried around a "real" camera, I carried my phone. I wanted to challenge myself to see what kind of images I could take with a device that would not necessarily be considered professional or capable of making images that would be as beautiful as a standard camera. Right away I was amazed by the quality and artistic nature of the images I was making. I fully expected to be slightly disappointed, wishing I too had brought a more conventional camera. Using my phone as my go to camera was just about as convenient as it gets. I could snap a quick picture of a favorite meal without disturbing our very near dining neighbors and I could take top-secret photos of places that I wanted to remember but was told in a very loud voice, "No photo!", which I now appreciate!
When we arrived home, I couldn't wait to start working on a photo book of our trip. I decided to work on a book of only Instagram photographs to showcase the pictures that I had fallen in love with. I selected a Classic Book and started placing photos in chronological order, matching background colors to the colors in the photos and adding text where appropriate. It's a simple book that came together quickly and effortlessly, and ended up being the perfect way to preserve these beloved images and sacred memories.
These are some of my favorite spreads from the book. I received it in the mail last week and I was incredibly happy with it! Not only did I love the images but the book itself was top quality and something I want to show to everyone who comes into our living room. I ordered it with lay flat pages, which if you've ever flipped through pages of an album and hated when they just won't stay put, you'll want lay-flat pages too. They're life changing people, I'm telling you.
I would love to challenge you to use your smart phone to document your lives, whether it's a once in a lifetime trip or the first wild flowers that emerge from the ground in the backyard when the weather starts to warm up. All of these experiences make up who we are and can be wonderful to reflect on when they are merely memories. Let's be honest, your phone is already in your hand or very near it most of the time anyway, why not use it to give the memories we're making a bit of color?
 Curious about phone apps? This article highlights 8 great phone apps.
Want to see more books made from photos taken by a phone? Check out I Love New York and PB & J: A Love Story.
And lastly, if you want to shoot better photons on your phone, read: Tips for taking better cell phone pictures.