Father's Day is on it's way and there's nothing more special than a Picaboo photo book that reminds the Dads in your life how wonderful they are. Heidi created this lovely photo book highlighting her husband, a special Dad to two happy girls. In this book, you'll see many things you can do on your own. Take a look at her creative choices. Then make your own book! It's easy and fun.
Our Classic photo book is just that, classic. The die-cut window is the perfect opportunity to place your book title and a photo of your favorite Dad. If you'd prefer a full image on your cover, consider selecting the Classic Custom or The Madison. Regardless of which book style suits you, your Dad is sure to love this sweet gift.


I love the simplicity of the copy. "I love you because ________."
This simple and lovely sentiment is a great copy template to use to create your book. Think about all the things you love about your Dad. His sage finical advice, the fact that no one makes better pancakes than him or the fact that he knows all the lyrics to Rapunzel. Then write them down. Combine each page with a thing you love about your dad and some of your favorite photos of him.
Add backgrounds to your photo book to help your pictures pop. Here, Heidi layered backgrounds to combine colors to make a book that is fun and sentimental at the same time. I love the plaid and striped backgrounds she selected. These remind me of the shirts my Dad used to wear when he was little. When you're using Picaboo, comb through our background selection. We've got over 20,000 backgrounds and to make it easy, we've bundled them by themes. You'll find themed backgrounds for girls, boys, parties, food, drink, beach vacations and of course, Dads.
 Switching up your page layouts is a fun way to build your book. Here, Heidi selected our collage style page layout for the first spread and a grid-like approach for the second. Picaboo offers multiple page layouts that can accommodate pages with just one photo or more than 20.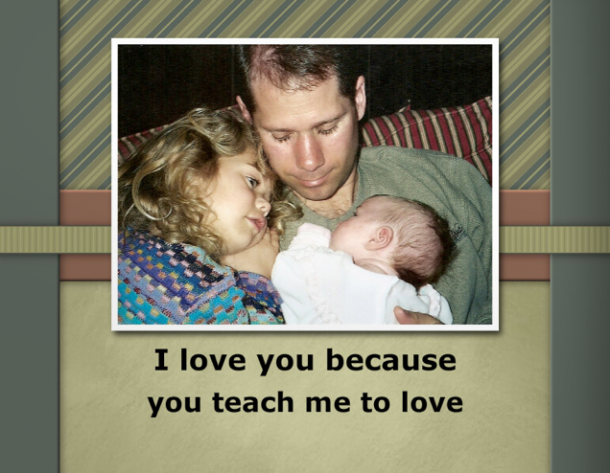 I talk about book covers all the time. But what's also important is how your book ends. The last page in your book, is the bow on the present. And this sweet line is the perfect end to this lovely photo book for Dad. Another option would be to leave the last page empty and write a personal note on the book. Using a pen, scribe a note from you or the kids telling Dad how wonderful he is.
***
Looking for a fun gift for Dad? Check out these 9 gifts you can make for under $20.
A recap of an important soccer game