This post was written by the hilarious Meg Murphy.
Have any of you Moms out there ever thought how much you could accomplish if you could have one day, just one day to yourself to do all the things you want to do?  Not all the things you NEED to do but something for yourself, something you enjoy doing.  Well, this past week-end I was given the gift of time with a week-end away from my domestic kingdom to attend an annual crafting retreat.
Once a year a bunch of us Moms hand over our crowns, aprons and feather dusters (and let's not forget our darling children) to our terrified, panicked totally competent husbands.  The trick to a coronation like this is to have everything well prepared but well calculated enough so that said competent husbands will not have to trek to the store with 3 boys under the age of six to purchase milk.  I guarantee that the fridge will be well stocked with milk from then on.
This weekend getaway was initiated eight years ago by my friend Marjorie who is a Kindergarten teacher and was also a Creative Memories consultant for some time.  Over the years it has been organized by a few different people and it is an open invitation not just for those gals who scrapbook but anyone who needs some peace and quiet to indulge in their varied interests from sewing, reading, crafting to writing – there are no rules apart from one.  "Get 'er done (and have some fun)."  Just as the week-end has evolved, so has the idea and format of scrapbooking itself and how we capture and chronicle all those special moments in our lives.
Now, I am a self-proclaimed, unashamed "pro-craftinator."  My friend Lena coined this term for those of us who buy craft materials and scrapbooking supplies and the only thing that actually gets created is dust on piles of craft supplies.  We have every intention of getting our scrapbooking groove on but instead we become overwhelmed and all the supplies start multiplying like Gremlins at a pool party until we feel like we are going to end up on "Hoarders: The Crafty Episode."  On the brighter side of things though, we would have the prettiest SOS flags waving out of the crafty avalanche.    I have nothing but the greatest respect and admiration for those who meticulously match materials, cut pictures, format a layout and piece together beautiful scrapbooks that will be cherished for years by the families they have created them for.   As the Mom of three boys, I drink waaaay to much coffee to have such steady hands for that.
Now I have a true confession to make and I am preparing myself for the virtual gasps and hands fluttering to mouths when I admit this.  I do not have one photo album of my children.  Not one.  And I have three kids.  Now that cat is out of the bag let's release the whole tiger.  I don't even have a wedding album.  OK, you can close your mouths now.  The thought of organizing all those pictures was just too much and I was quite happy to go burrow myself into Mt. Craft Supplies and plan an escape route when I decided that this year I was going to actually print some photos of my children in a book format.
About a month ago I tried my first Picaboo book after hearing about it from a few friends.  I decided to start small and do our first family vacation to Martha's Vineyard three years ago.  I can still hear you gasping.  Yes, three years ago.  Picaboo was user-friendly (even for this beginner) and I loved how I could create my Picaboo photo book to reflect my personality and that of my family.  I was thrilled at how it turned out and Vanna White should start to feel nervous the way I have been presenting my book to friends and family.  I felt I was ready to take the next step and accept my first invitation to the gal's weekend away.
I packed up my fuzzy slippers, bottle of wine, laptop and headed to the countryside for two days with 22 fabulous ladies who came from all walks of life:  Teachers, Stay-At-Home-Moms (they brought two bottles of wine), Working Moms and All Da Single Ladies.  There was no need to cook dinner, clean floors, wipe noses ('cause that would have been weird) or do dishes as it was all provided by the retreat center.  It was like camp but without the boys or frozen bra's (I wore mine at night just in case…) We had a chalet to sleep in and there was a large conference room with tables for us to work at.  We were there to chat, share ideas and create memories not just for that weekend but in our creative endeavors, whether by computer or hard copy.  There were about four of us who were doing photo books and we all used Picaboo, two had never used Picaboo before.
I was fortunate to sit beside Heather who has used Picaboo quite a few times before and had some amazing ideas and gave me great feedback.  Heather has completed a baby photo book for each of her three kids and has printed off two copies; one for her and her husband and one for each child.  She also does a yearly photo book and prints off four copies of each book – again, one for her own photo book library and one for each child.  What a great way to utilize Picaboo and everyone gets their own copy for cherished memories!  She also brought copies of the books she has already completed for us to flip through and get some ideas.  It was incredibly helpful to see how ideas on the computer are translated into a personal library of family memories that are of true professional quality.
As a beginner I was really grateful for some of the ideas and suggestions that helped to improve the speed and appearance of my photo book:
1)     Copy a file of your pictures that you want to use and then title that document, creating a new file on your hard drive.  Then just go through and delete the pictures you don't want to use and then you can just upload that file when you are ready to begin.
2)     Save your favourite backgrounds so you don't have to constantly search for them.  Confession time again (I'm not even Catholic!) but I didn't use backgrounds in my first photo book as I didn't even explore that venue.  After seeing a few albums it makes a world of difference and it is incredibly easy to do.
3)     Use some of your pictures as backgrounds, creating an original and unique photo book for your family.  Scenery shots make beautiful backgrounds for your personalized photo book.
4)     Sometimes less is more.  If you are using a "busy" or patterned background on one page, you might want to use the custom colour option to create a perfectly matched tone on the facing page.
5)     Your photo book can take any tone or theme you want it to.  There is the option of creating a scrapbook style and did you know you can digitally scan your hand-scrapped books and create photo books using Picaboo?  Check out the Picaboo Idea Center for loads of different formats and ideas.
6)     When taking pictures in the future, I am going to consider angles that could be utilized in a photo book.  My good friend Christy takes pictures of her four kid's hand and feet and she had pictures of just her daughter's hands in a rock-climbing layout.  Christy also has her kids write in the sand on family vacations and uses that as a background for her layouts.   What a great idea!
7)     Journaling was a big topic of conversation and it was great to look at some of the ideas of those who were doing scrapbooks and apply that to the photo books.  Sometimes the pictures and the layouts speak for themselves (Yep, that's a beach and that's us on the beach).  On the flip side, chronicling events and memories can be quite important when doing a yearly book or a baby's photo book as they probably aren't going to remember exactly what was going on the day they were born (having said that I am not sure I remember what was going on with all the painkillers I was cruising on).
The retreat was out in the country just outside Burlington, Ontario and when I say country, I mean even a cowgirl needs a skinny vanilla latte from time to time and that just wasn't going to happen there.  We actually lost our internet connection for a day as the weather wasn't great but it wasn't a problem as we were working with Picaboo.  As we had already uploaded the software at home and we weren't working on a website, we were still able to work on our photo books and all we had to do was upload some backgrounds if we wanted to when the connection came back the next day.
I set myself a goal of doing one photo book on the week-end and was thrilled to have completed two of past family vacations.  What was great is that there were a few of us working on Disney World vacations at the same time, so we were able to reminisce together and share ideas for our books with each other.  We all marvelled at what were just memories and snapshots of moments just months or years ago all came together to tell a personalized family story to be treasured for years.
This week-end was invaluable as we shared different ideas and formats with each other while enjoying the time to accomplish our projects without trying to juggle the laundry, making meals, refereeing fights or disassembling forts.   I also found that I learned a lot from those who were doing traditional scrapbooks and how each picture is integral to the layout and it is up to you to present it into something translatable and memorable.  One of our friends who was doing traditional scrapbooking laughed as we were all packing up and commented on the fact that she had to pack her car with boxes and files while we photo book gals just walked out with our laptop bags.  At the end of the week-end we all left with a true sense of accomplishment and the realization that carving out a little time for ourselves to create new memories and to chronicle old ones is time well spent.
Ironically, I was asked to submit some pictures of the weekend but no one took a single photo.  That remains a story to be told for next year I suppose.
My princes were all in one piece when I returned home and I was even presented with flowers upon my return, a true royal welcome.  I did the regal thing and ignored the fact that all the kids were wearing pyjama bottoms as pants, they had pizza for breakfast and apparently all the hair brushes in our house had disappeared.
I should have taken a picture – it would have made a great page in my photo book.
Here are some pages from one of Meg's books.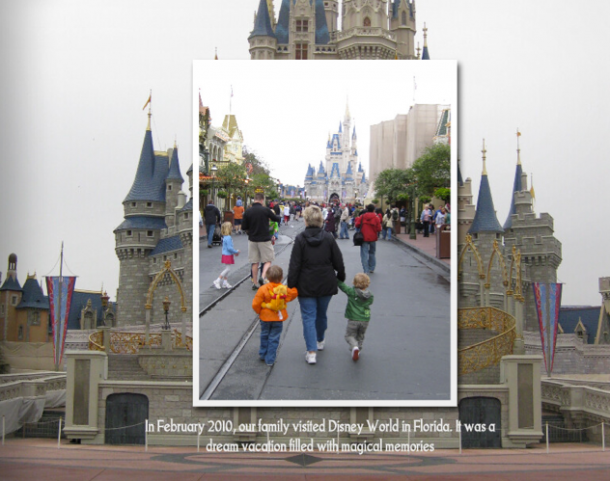 For more ramblings, recipes and reflections into the life of a Mom who is not a Super Mom checkout, Meg's blog.
***
Want to make a travel book of your own? Get started here.
Want to see other travel books? Take a look at South African Clinic, Our Trip To Disney World, I Love New York, My London Book, We'll Always Have Europe, How To: Make a Vacation Photo Book, Laura's Spring Break Cruise, We're Going To Graceland, and Italian Anniversary.