Flowers are beautiful. There, I said the most obvious statement in the world. But really, it's hard to pass by a blooming flower and not stop. Especially if it's a rose. A while ago, we featured a very popular photography tutorial that explained how to take photographs of flowers. We followed up that photography tutorial with 40 amazing floral shots taken by our customers. Both of those posts are super worthy of your time. This photo book, created by Cheryl Parker Miller, is a great example of how photographing everyday objects, like flowers, can make a lovely photo book.
Cheryl is prolific around Picaboo because, to date, she's created over 40 memory books. Cheryl is also famous for her intricate grid-like structures. She loves to create a grid in her photo books to establish a consistent look and feel. Grids are traditionally a design technique adopted by newspapers and magazines to cohesively apply a lot of information into a consistent layout. Grids organize content using margins, guides, rows and columns. And they're great in photo books because they can help you create a layout that looks professional and enticing. There are several ways to create a grided layout in Picaboo.
The first and quickest option is to use a consistent page layout. Since we have over 50+ page layouts with one to 15 images per page, finding one is easy. Then, keep that structure throughout your book. The second way is to create your own grid and you can do this by using our grid tool to help you create a consistent structure. The image below shows you where to find the grid structure and what it looks like on top of your photo. Please note: This grid pattern will not be printed.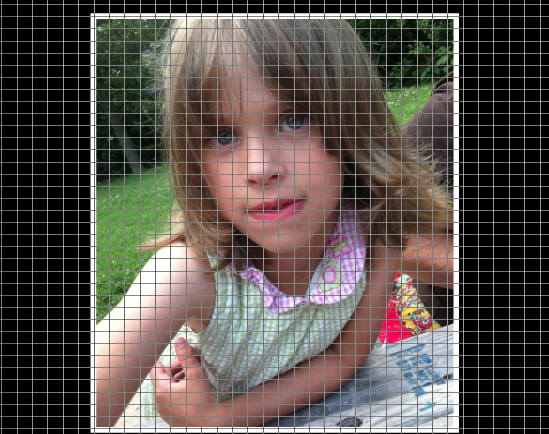 In a finished book, your grid is invisible. Instead what the readers see is a consistent layout on each page. Below is a photo book all about roses that uses a grid to relay the info. This professional style layout is perfect for photography vacation, wedding and baby books. And in fact, we've seen many photographers use this design technique when creating photo books for their clients.
Have you made a book about a hobby or your photographs? If so, we'd love to see it. Send a link to your book to social@picaboo.com.