Every summer, Picaboo fans from all over create lovely Disney Photo Books. It's a popular destination for our customers and fans. We've seen all types of titles for photo books about Disney including the one below, A Magical Time. But today, we're looking for more examples.
Creating a photo book full of Disney memories is a great way to relive your vacation again and again. Stroll through Jennifer's visit to Disney and you'll find some great ideas and design choices that you can apply to your next photo book.
From the beginning, Jennifer pulls us in. I like the fun typography choice and I love that she includes her children's ages. Now when her family looks back at their Disney photo book, they won't have to wonder when they went and how old everyone was. This is a quick and easy way to date your memories!
Turning great photos into backgrounds is a great way to showcase favorite photos and places. And using lay-flat pages, like Jennifer selected, allows your two-page spreads to print over the gutter, giving you more room to tell your story.
I really like the look of inset photos. By turning a photo into a background and then layering a picture on top, you can add extra dimension and texture to your page layouts.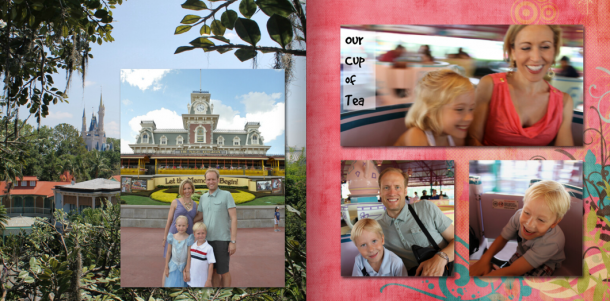 Turning photos into backgrounds is fun. And it's a great way to showcases landscape photographs. But sometimes, you want something a bit more designed. And that's why Picaboo offers over 20,000 backgrounds to choose from. From solid colors to themes like weddings and babies, we've made it easy to tell your story. I really like Jennifer's background choices. The solid blue and the festive pink backgrounds work nicely in the spreads above. I love the pink designed background because it shows movement, which fits perfectly with the Crazy Teacup ride.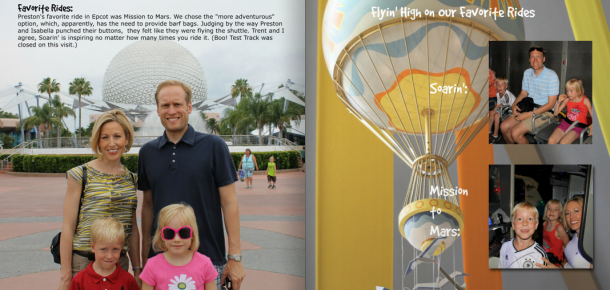 I love how Jennifer includes the favorite rides. This is a fun detail that makes this Disney photo book extra special. Consider adding favorite restaurants, favorite amusement park characters and inside jokes your family shared throughout the trip.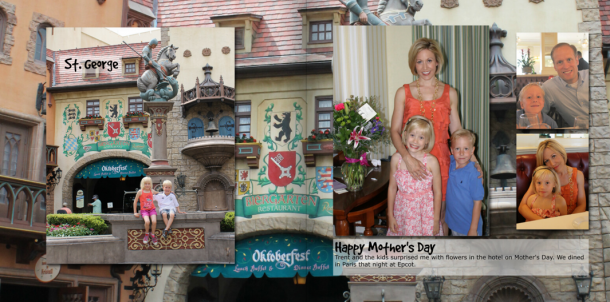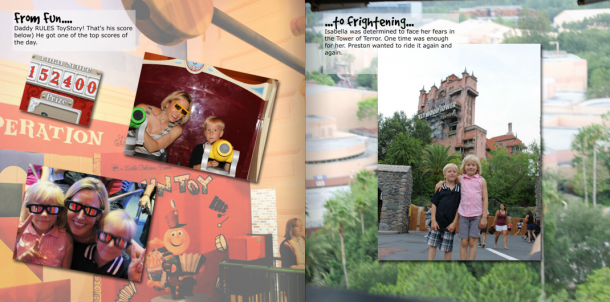 Jennifer does a great job recapping the events of the trip. She does it in a way that's personal and fun. We've seen parents do this in a lot of different ways. Some Disney photo books recap each day in order with a full list of all the rides, restaurants and notable events. We've also seen itineraries in the front of the book that introduce each stop along the trip. Both are great options because they allow you to remember all the different events and special moments of your trip.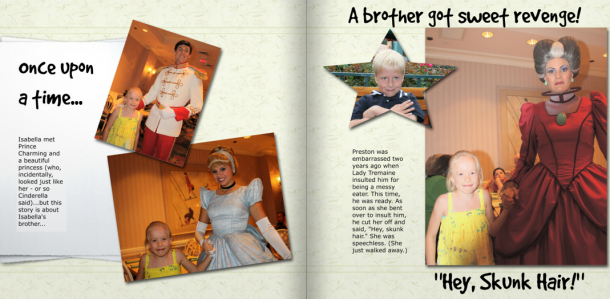 This is hilarious. As the saying goes, "Kids say the darndest things." And this anecdote paired with a funny picture of an angry Lady Tremaine is pretty funny.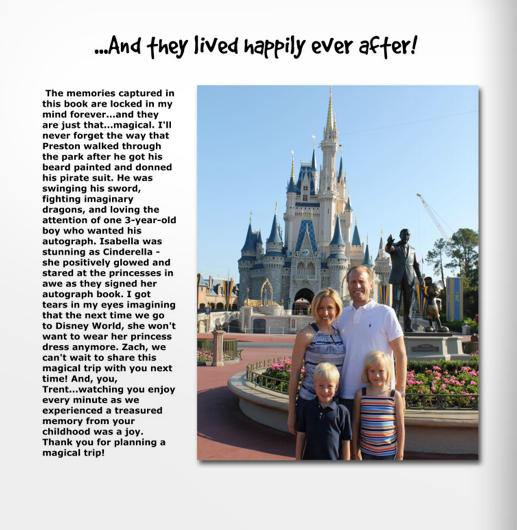 Needless to say, I love this Disney photo book. It truly captures the magic of summer vacations and I'm thrilled she shared it with us. Want to see more vacation photo books? Check out: A Scrapbooking Retreat for Moms, We're Going to Graceland, Traveling the USA with the Gonce Family and A Trip to Europe Using Instagram.