A Killer Halloween Collage: In 9 Easy Steps
Grade school holds many fond memories. Learning to write, playing the tambourine and art class. I loved art. One of my favorite things was creating collages. Cutting pictures out of magazines, smearing the backs with Elmer's Glue and pasting those images into construction paper. Then I'd peel the extra glue off my fingers and pretend […]
October 17, 2011
Grade school holds many fond memories. Learning to write, playing the tambourine and art class. I loved art. One of my favorite things was creating collages. Cutting pictures out of magazines, smearing the backs with Elmer's Glue and pasting those images into construction paper. Then I'd peel the extra glue off my fingers and pretend it was my mom's cucumber face mask.
For that reason, collages have always held a special place in my heart. Now that I'm older and subscribe to fewer magazines, my collages sing a different tune. Now they're full of digital memories from my life. Or I use them to decorate my home during eventful moments. Like International Candy Day. AKA Halloween.
Have you ever made a holiday collage? It's actually very easy. Just follow these 10 steps and you'll have your very own Halloween collage poster. On our end, we're making one too and we'll reveal it on Halloween. Ready to get your fingers sticky? What? You're not eating caramel popcorn right now?
Step by Step Instructions for Creating a Picaboo Collage:
1. Open PicabooX and select "Collage Poster" under the category heading, "Prints and More."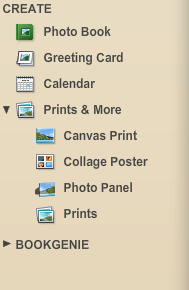 2. Select the images you would like for your collage.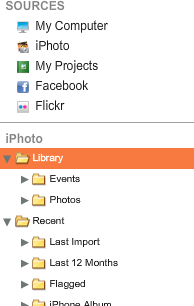 3. Select how you want to create your new poster. I chose "From Scratch" as I like to place my images where I want them. If you select "AutoFill," PicabooX will place all your images and then you can switch them around, add or delete them. You have complete creative control here!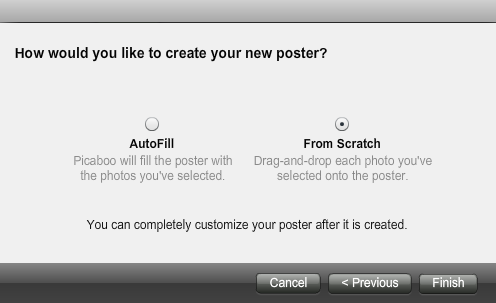 4, Now let's find the perfect Page Layout. On the left sidebar, click on tab "Page Layouts" and scroll down until you find the perfect layout. If you picked "AutoFill," PicabooX will choose a layout for you based on the number of pictures uploaded.

5.  Here's our selection. Notice on the bottom, you can choose if you want your collage to be landscape or portrait. Nifty, aye?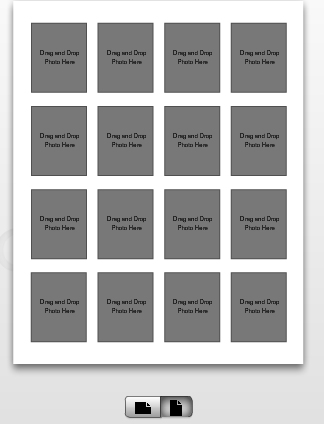 6. Dragging and dropping images is the next step. To make sure you don't duplicate an image, just check the box above the photo tray that says: "Hide photos already in poster."

7. Now it's time to create your background. Have you tried out the EyeDropper tool? This tool makes it easy to create a background color that matches your images perfectly. When you click on "Background Color" you'll enter a color box. Select the eyedropper icon and then mouse over the image you want to match. Click once to capture the color and again to apply it to the design element you selected. If you don't want a solid background, use one of your images as a background by dropping it onto the white border of your collage.

8. Now it's time to mess with the images. I love playing with the brightness, contrast and saturation. These tools replace the need for PhotoShop or other photo-altering programs. You can also turn your color images into black and white or sepia tone. All of these fun options can be found under the "Photo Tools" tab in the left sidebar. You can also add Captions or Shapes and Corners. I don't need those for this project. But they're worth exploring, if you haven't already.
9. Since I'm pretty close to finishing, I like to "Share" my work with my husband. He's a Creative Director and has a good creative eye. You may not feel the need to do this. But if you want to "Share" your collage with a friend–it's easy. Just hit the main navigation and you'll see the word "Share" next to the "Edit" button. Click on that. When you do, you'll be prompted to title your collage, save it and then if you want, sync it. Syncing allows you to edit this project on other computers. Then you can share your collage via Facebook or e-mail.

And that's it! Ten easy steps to creating a modern-day collage without getting Elmer's and magazine scraps everywhere. Now it's your turn! What kind of collage are you going to make?
On Halloween, we'll reveal ours on our Facebook page. Just so you know, it's pretty awesome. Seriously. I'm not into hyperboles. So when I say it's awesome, I mean it.
And speaking of Facebook, are you a fan? If not, you should be. Because we do a lot of cool stuff on Facebook. Like reveal killer Halloween posters (no pun intended). And sometimes we give fans Picabucks! So make sure you "like" us. It'll be worth your while!