I've said this before and I'll probably say it 1,000 more times. But one of the best things about my job is seeing all the books our customers make. I've seen tons of kids books because kids make great subjects. But this is the first counting book I've ever seen. And since it was new to me, I knew I had to share it. Here's Alice's Counting Book. This is a great way to teach your child in a fun and personal way how to count. This lovely book was made by Connie Grunning.
Look at those cheeks! I just want to pinch, pinch, pinch them! Don't you??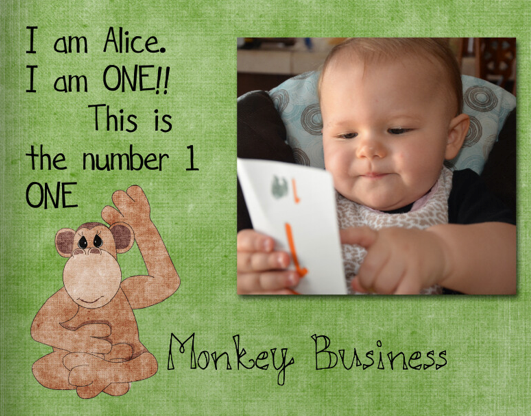 Here's what I like. Clean, simple layouts with solid Picaboo backgrounds and a lovely incorporation of Alice's family in the lesson. And for all you busy Grandmas, Moms and Dads, this sort of book is easy to make! Especially because you want to keep the layouts simple.

I love how family members and everyday items were included in this book. For Alice, when she sees her Grandma or G.G. in real life, she'll remember the book. And visa versa. Using everyday items allows Alice to see that counting can happen in everyday scenarios. Not just in books. Also, I love the repeated background colors. Keeping it simple is tres important when creating a kid's book.
I love how the whole family got involved. That's so lovely to see! And for Alice, this will help her remember and pronounce everyone's names and give her a lovely book that she can look back on when she's older.
Ending with a collage-style layout with all the photographs is a great ending. And I love the book cover. These small details really make this book extra special.
Want more inspiration? Check out these fun and inspiring kid's books.
Little Brown Bear: An Adoption Story