Have I mentioned how much I love Canvas Prints yet? They're much more than photos on canvas. Canvas Prints are an easy way to turn your photos into art. Recently, we added more sizes and more creative options to our collection. And they're easy to hang because each canvas print comes with its own hardware. Plus, with richer image quality and vivid color matching, turning your digital images into art is better than ever. Looking for some creative new photos on canvas project ideas? Look no further! Here are nine creative projects you can make with Canvas Prints!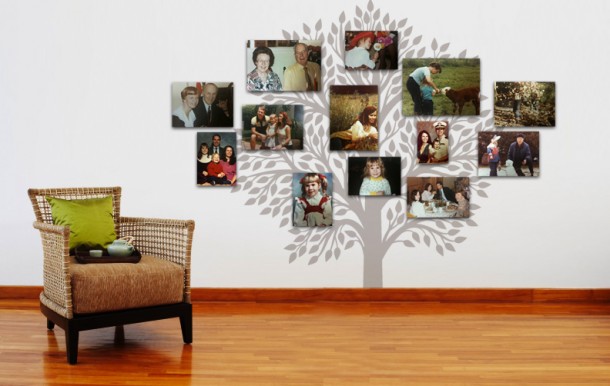 A Canvas Print Family Tree
Forget about putting your family tree on paper! Put it on your wall. Use a stencil to create the tree and then pepper your tree with the members of your family. When creating multiple canvas prints, think about a cohesive idea that binds them together. It could be that they're all sepia-toned images or each leaf in the family tree has their name written in the same font. Add embellishments, Picaboo backgrounds and photo-shaped wells to add texture. Or keep it simple and just have single-shot images of your family.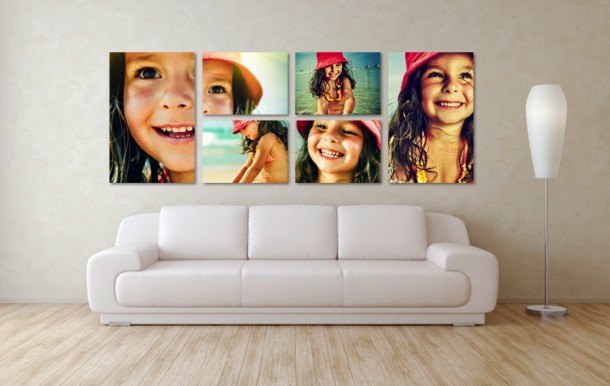 A Canvas Print Puzzle
With different sizes and shapes, you can really mix and match Canvas Prints to create one full image or tell a story.  There are a few ways to do this. You can crop a full image into halves, quarters or eighths. Or you can combine images from one day of shooting. The trick here is to crop your images at interesting places and intervals.
I Heard You Canvas Print
What better way to illustrate that you were listening then adding favorite quotes to a Canvas Print. This was a popular gift during Mother's and Father's Day but it's really a timely gift for any day of the year. This fun Canvas Print will definitely take on a life of its own and could easily become a centerpiece in your home.
I Love My Furry Buddy Canvas Print
The theory goes that pets love us unconditionally and for that, we owe them big time. To honor their undying loyalty, why not create a Canvas Print all about them. Include the things you love about your pet, like her funny-sounding barks, her love for peanut butter and her dining room table tenacity.
Nursery Names Canvas Print
If your child doesn't grow up with his name on his wall, how will he know it's his room? Ok. That's silly and we admit it. But names hung up in a nursery are no longer optional anymore. Neither is a standard approach. Canvas Prints add a new take to this time-honored tradition. Pair them with baby-themed backgrounds and fun alpha embellishments to add texture and dimension.
This Is My Relaxation Room Canvas Print
Every room has it's purpose. You eat in the dining room, relax in the Living Room and sleep in the bedroom. Just in case anyone forgets, why not make a fun room-themed Canvas Print to augment your current design aesthetic and add dimension to your walls. With our rich media caption capabilities and our gallery of typefaces, finding the perfect look and feel is easy and fun!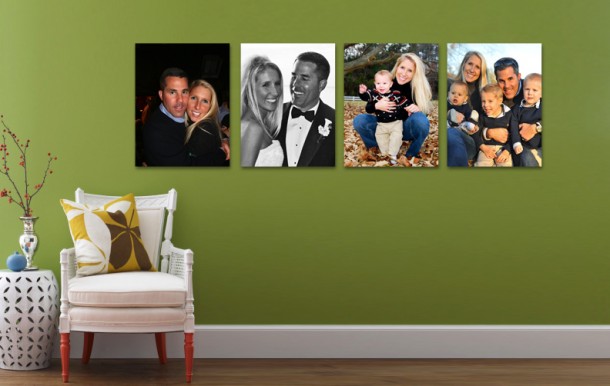 The Story of Your Family Canvas Print
Every family has a story. Whether it began in New Orleans or in the 3rd grade, the way we come together as a family is interesting and important. Why not share the story of how your family was born using Canvas Prints? Consider adding images of your first date, your wedding, the birth of your children, birthdays, holidays and anniversaries. This fun Canvas Print idea will easily become the highlight of your home.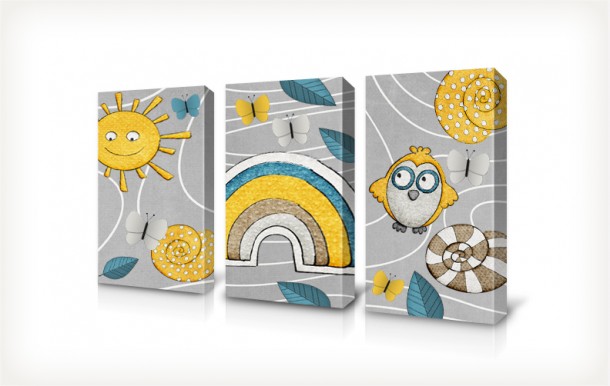 Nursery Room Canvas Print
Now adays, every nursery has a theme. From spiderman to space to the jungle, decorating a baby's room in a specific theme is fun but sometimes difficult. Of course, when you're creating your own art, it's pie. Find fun illustrations from iStock, Dreamstime or any other stock site and add them to your Canvas Prints. You can make a collage of images or add one image per Canvas Print. Pair your images with Picaboo backgrounds for added fun!
Favorite Lyrics or Poem Canvas Print
Sometimes a poem or a song lyric moves us like nothing else. And sometimes these words live in our hearts and need to be repeated over and over again. Adding a poem to a Canvas Print is easy and fun. Especially with our new rich media caption capabilities that allow multiple typefaces and colors in the caption boxes.
Now tell us: Which creative idea speaks to you?
 ***
Wanna learn more about our expanded line of Canvas Prints?
Check out: Introducing Canvas Prints. How To Make A Canvas Prints Wall Clock and these 5 Fun Ways to Display Canvas Prints.