Backgrounds are a key creative element that can add texture and emotion to your Picaboo projects. Our background library includes over 20,000 backgrounds in a wide array of themes. From babies to weddings to vacations, finding the perfect background to showcase your photos is easy. But you can use your backgrounds in a lot of different creative ways. Here are 9 fun uses for digital background. Take a look at the examples below. And if you have a new use for backgrounds, we'd love to hear it. Leave your idea in the comments below.
Create borders around your pages or pictures with Picaboo borders. This lovely wedding book looks extra special with a textured border.
Backgrounds can be a great way to play off a seasonal event or theme. Choose your backgrounds by color, theme or designer to find the ones that best match your project.
Frame your pictures and then frame them again with backgrounds. Multiple frames are a fun way to move the eye across the page. Want to learn how to do this? Check out this post.
Use backgrounds to add vertical lines to your spreads. This helps establish movement and can be a great way to play up a sports-related event or holiday theme.
Add backgrounds to our photo-shaped wells to make your page more playful. This is a fun tool for baby books, birthday parties and special events!
Create a weave with backgrounds. This is a great way to make a picture pop.
Add vibrancy to your spread with backgrounds. Here we used circle-shaped wells and filled them with backgrounds to make this birthday book look extra special.
Backgrounds are also a great way to add movement to your pages. This fun arrow-shaped background adds dimension and energy.
Add layers to your pages with backgrounds. Here we created a beautiful grid to showcase this sweet baby book.
Ready to get started? Here's how to access our Background Library.
The first icon to the left is the Background icon and when clicked, will open a sidebar to your right.
To find the perfect background, select the method you'd like to sort our backgrounds.
You can search for backgrounds by Themes, Designers, Most Viewed, Favorites and Recently Used.
If you don't see a background that fits, why not make one! You can create a background color that perfectly 
matches your pictures
. To access our "Eye Dropper Tool," select "Color" from the Backgrounds main menu. Then choose "Select A Color."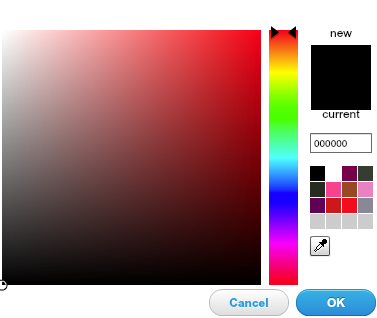 A window will open featuring a rainbow of color options. Select the Eye Dropper icon and then match a color on your page layout, your Media Tray or on the color chart to create your own background color.
Inspired? Here are some inspiring resources: Photo Book that Uses Backgrounds in a New Way, The Story of Picaboo Backgrounds, Learn how to Make a Frame using Picaboo Backgrounds and Mary's Spooky Halloween Photo Book.