2012 is almost here! And the big question remains: What calendar are you gonna stare at all year? Let's hope it's not the free bank calendar with the sad blue background. This year, do something different. Create a custom Picaboo calendar with your own theme and design. It's easy and fun. How easy? Check out this short video tutorial.
But the question isn't how to make one. It's more about the theme. Every year, we see tons of calendars. From babies to dogs to modern art, the sky's the limit when it comes to choosing the subject of your calendar. Here are eight fun ideas for creating the perfect calendar.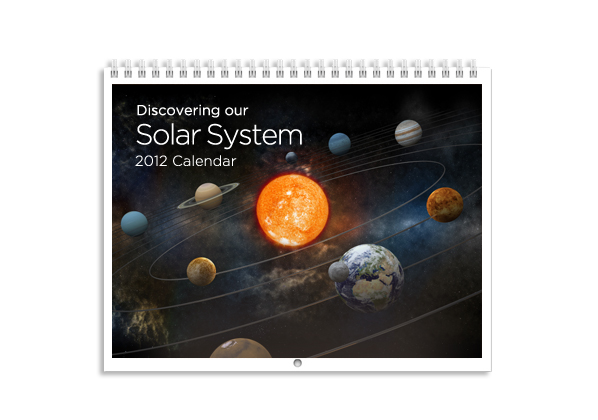 The Solar System Calendar
This fun theme is great for little ones just learning about the Milky Way or for those who've been passionate about it for a while. Need some images? Check out royalty-free images from Dreamstime. Consider including space events like the next Lunar Eclipse or the best day to view Saturn.
Mini Resolutions Calendar
Setting goals for kids is a great way to teach them values. This calendar theme encourages you to set mini goals for each month. February could be devoted to listening. March could be all about table manners and so on!  When the year is over, you can review them to see how much your little one has accomplished.
The Eat Better Calendar 
It should come as no surprise that food tastes better when it's in season. And what better way to remind yourself of the ripest fruits and veggies than with a Picaboo calendar. This calendar could include the best foods to eat each month along with recipes for eating healthy. To find the best in-season foods in your area, check out the Sustainable Table.
Bridal Countdown Calendar
Do you know someone getting married this year? If so, there's a ton of planning to do! Use this Picaboo Calendar as a wedding planner. For example, eight months before your wedding, you need to be thinking about a photographer, a venue, your dress, where your guests will stay, etc. The list goes on! Use this monthly checklist to fill out your calendar.
Roller Derby Calendar
Know someone in roller derby? It's a fun contact sport full of crazy characters. Why not focus each month of some of the toughest jams and the MVPs behind each game. This could make for a great fundraiser!
Stay In Touch Calendar
Whether your family members live far away or are a little forgetful, a Picaboo calendar is a great way to remind them of your family events. And the great thing is, Picaboo remembers your dates so when you make next year's calendar, you can forget them, too.
Dinosaur Calendar
Dinosaurs may be extinct but they're still pretty cool. This calendar is perfect for little ones passionate about dinosuars. Focus each month on a different dinosaur. Include it's size, eating habits and what period it lived in. Need help selecting your dinosaurs? Check out Discovery's DinosaurCentral.
Pizza Calendar 
Everyone loves pizza! But sometimes we get in a pizza-rut and pepperoni or cheese become our default choice. But there are so many different types of pizza, why not explore them all? This fun calendar can inspire your pizza ordering and cooking.
Got other good ideas for a fun calendar theme? We'd love to hear them! Share them in the comments below. And stay tuned to our Facebook page for chances to win calendars, Picaboo cash and other fun prizes!