7 Ways to Remember the Holiday Season
Can you believe it? The holidays are over – Santa has come, the Hanukkah candles have melted, and leftovers are a thing of the past. However, I don't feel sad. I can relish all year long in the plethora of unforgettable memories I have from the season.  (Plus my iPhone camera is pretty full too.) I've got about 500 new photos to enjoy! Obsessive? Maybe. But I didn't want to miss anything. And I certainly don't want to forget all the fun times. Are you like me? Did you take a ton of shots this year? If so, here are some fun projects you can make with your holiday photos and relive the memories of the season.
Idea #1: Holiday Traditions Photo Book?
Every family has their own holiday traditions, special and unique ways to spend time together. From baking feasts to lighting candles to volunteering, take the time to write down your family's special blend of events so one day, the next generation can repeat them. Make a list of the traditions your family participates in. What foods do you eat? What games do you play? Then use photos from years past traditions to create a fun holiday keepsake you can pass down to your children and then theirs. This is a lovely way to cherish and remember important family moments. Get Started Now.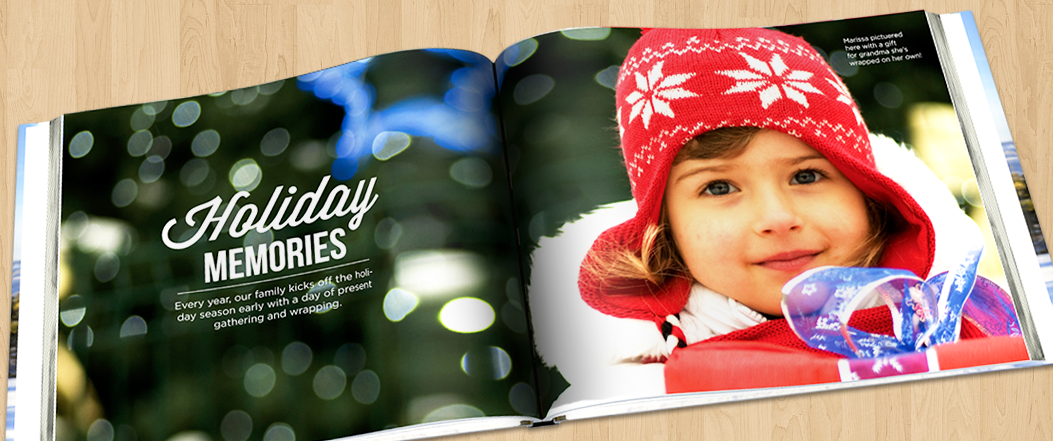 Idea #2: Memory Canvas- Surprised Faces
The memory of my kids running down the stairs and into the living room to open their first stocking gifts next to the warm fireplace is a moment I'll always remember. I took several photographs of them in their PJs with big, wide eyes. These are some priceless photos and I know they'll look great on a Canvas Print. Get Started Now.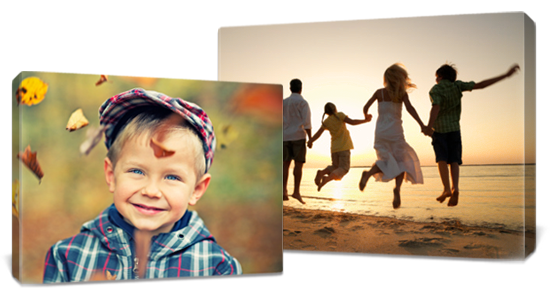 Idea #3: Family Favorites Cookbook?
My mom makes the best pumpkin bread in the world. It's an eagerly anticipated treat in our family. Equally popular is my husband's clam dip, which is a new twist on the recipe his grandmother invented. And me, I'm a wizard at making Eggnog Martinis. These are our family recipes. Delectable breads, soups and munchies that we enjoy together every year. And you'd better believe that I'll be adding these to a holiday cookbook. This is really easy project when you use Picaboo's pre-set cookbook theme. All you have to do is scan your recipe cards or retype them using our caption boxes. It's really easy. In fact, it's easy as pie. Get Started Now.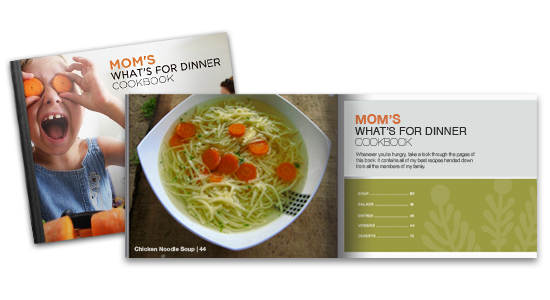 Idea #3: Cropped Toes and Fingers Photos?
I'm an amateur photographer. For every 30 photographs I take, about four are decent. But that doesn't mean the photo is wasted. I've found if I crop my images in interesting places, I actually have some pretty good ones. In fact, I took some great photos of my son's tiny toes and my daughter's hands. These make great cover photos for photo books and they look great on Canvas Prints.  This is a fun way to mark how much they've grown, year over year. Get Started Now. 
Idea #5: Photo Prints for Family Far Away?
I'm from a very big family and as such, it's hard to get everyone in the same room. In fact, the last time I saw everyone together was over two years ago. To keep everyone up-to-date, I turn my photographs into prints and pop them in the mail so we can all cherish great holiday family moments. It's a nice way to stay in touch, it doesn't take a lot of time, and it's priceless. Get Started Now.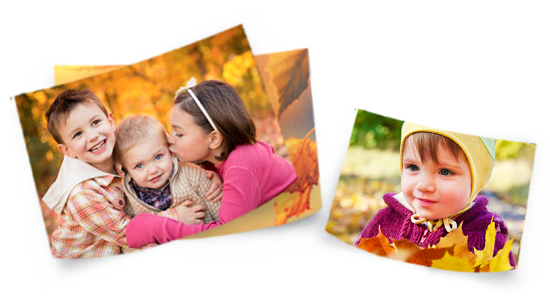 Idea #6: New Years Cards?
If you haven't sent out holiday cards, it's not too late. Our New Year's line is actually my favorite and full of amazing designs. Take one of your favorite photographs from this year's festivities and turn it into a New Year's card. This fun and easy project takes about five minutes but will be cherished for years to come. Get Started Now.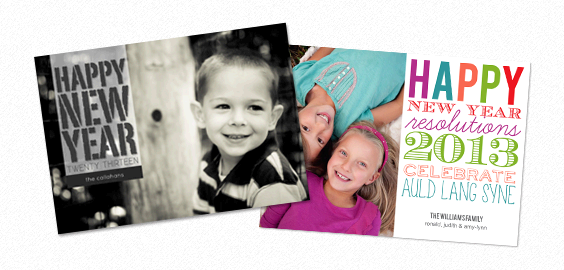 Idea #7: Holiday Collage Poster?
One of the best ways to use all your holiday photographs is to make a Collage Poster. Layer photo on top of photo, add festive words and take advantage of our holiday-themed Picaboo backgrounds. To make it even easier, use our Auto-Fill feature and Picaboo will create the collage for you! Get Started Now. 
***
Why wait? Create beautiful photo books, calendars, canvas prints and New Year's cards! See our current specials. Get started now.