Picaboo Cookbooks or Recipe Books are a fun way to capture and share your favorite dishes. Our  photo books can easily become recipe books by adding recipes to our caption boxes.  If you haven't seen the tutorial that teaches you how to make a Picaboo recipe book, that's a good place to start. It's a step-by-step tutorial that walks you through the process of making a custom recipe cookbook. But the fun part comes when you start thinking about how you're going to customize your cookbook to make it uniquely yours. To help get your creative juices flowing, here are 7 tips to help you create your own recipe cookbook.
Custom Recipe Cookbook Tip #1: Add Photo-Shaped Wells
Photo-shaped wells are a fun way to add a little pizzaz to your layouts. You can use them as a design element to add a fun fact about an ingredient, address the caloric content of a dish or to share history behind a beloved recipe. We have hearts, stars and circles in our photo-shaped well library.
And don't just stop with those features, you can use the points on the stars to look like flags. Or turn circles into ovals like Heidi did in the example below. And don't forget about layering your photo-shaped wells to add dimension. Layering is a technique often used when applying embellishments. But they work for photo-shaped wells, too!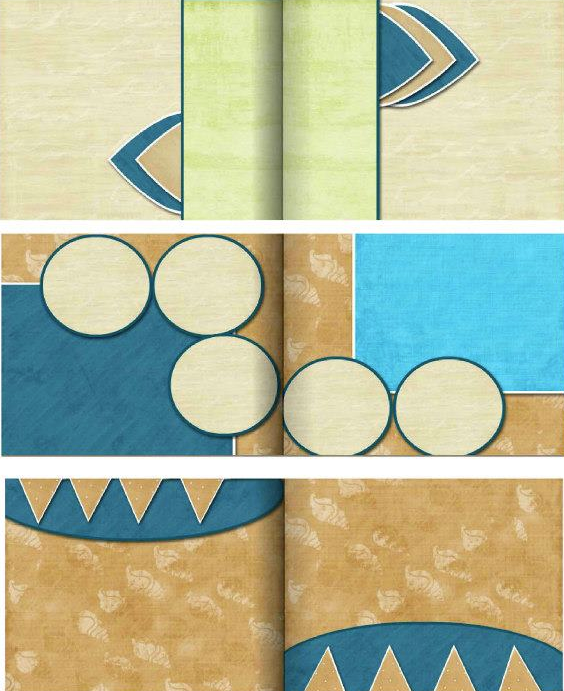 Custom Recipe Cookbook Tip #2: Add Food-Themed Backgrounds
Our background collection is pretty extensive. In fact, we have over 20,000 backgrounds searchable by theme, color, event and holiday. This makes finding the right background super easy.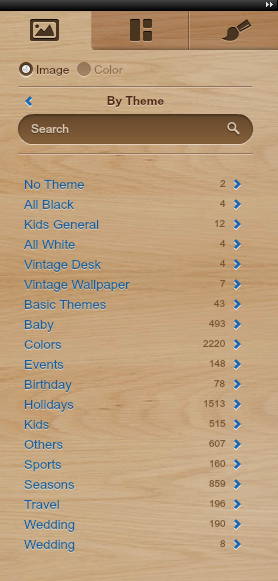 And of course, we've got a ton of food-themed backgrounds to add to your custom cookbook. A quick search for food backgrounds turned up images of lobsters, cookies, bell peppers, strawberries and yummy cake-themed backgrounds. And don't forget, you can turn any photo into a background by selecting "Set As Background" when you drop your photo onto a page.

Custom Recipe Cookbook Tip #3: Add Rich Media Captions
Winter is coming and nothing warms my heart more than a big bowl of soup. Have you noticed how popular soups have become? I think the popularity is due to new takes on old recipes. For example, no one serves Gazpacho anymore. Now it's Pumpkin Gazpacho, Watermelon Gazpacho and I've even tasted Peanut Butter Gazpacho. (Side Note: It was amazing. Run to Asheville, North Carolina and grab some. Pronto!)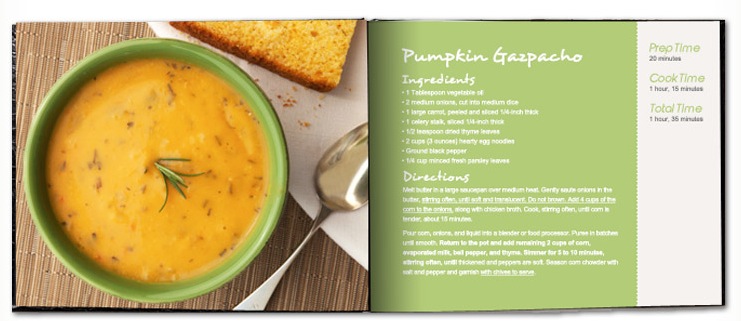 When adding recipes that are a bit different from the norm, why not use our rich media captions to highlight the directions and ingredients. This is a fun way to customize your recipe book. You can use multiple typefaces, underline key words, italicize others and switch up fonts all in the same caption box. This new Picaboo feature was a request from our customers and we're happy it's on the menu!
Custom Recipe Cookbook Tip #4: Add Two-Page Spreads
When you're creating a cookbook, you're dealing with one of the most popular photography subjects of all time: Food. And food sometimes deserves the glory of more than one page. Add fun photos that spread across two pages to create a two-page photo spread. Two-page spreads look excellent with lay-flat pages.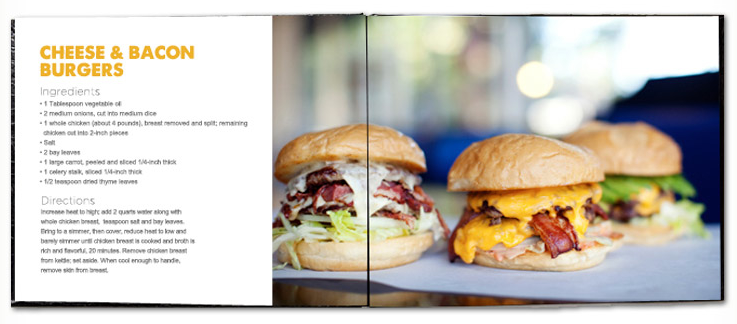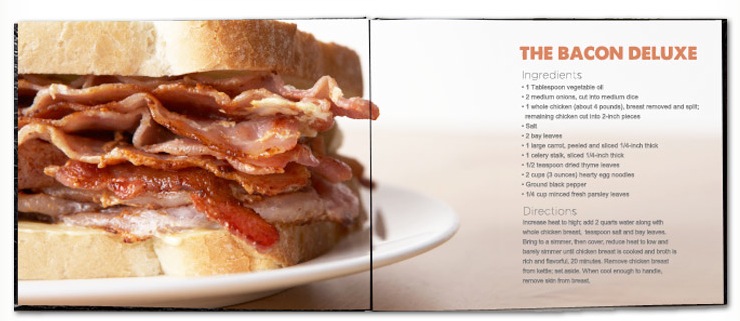 Have you heard of lay-flat pages? These extra durable photo pages incorporate state-of-the-art binding technology that allows your book to lay flat. That means there's no gutter, which gives you extra room for showcasing your photos and creates a professional look that can take your photo book to the next level. Below are some examples of how a lay-flat page looks.
Custom Recipe Cookbook Tip #5: Vary Your Page Layouts
Since you're creating your own recipe book, you don't have to follow the rules of typical recipe books. Instead, make this book your own. Add images of your family making the recipes, a triptych of your yummy dishes or photograph empty plates. Or why not add a collage in the middle of your recipe book? Our collage-style layouts are inspired by our popular Collage Posters, and are very fun to experiment with. A collage layout would also be a great way to break up the different food categories.
Custom Recipe Cookbook Tip #6: Add A Table of Contents
Adding a table of contents to highlight your recipes is a fun way to introduce your personal recipe book. You can use photo-shaped wells or create one caption box and copy and paste that image to create a uniform look. To create the rectangles above, I copied and pasted the caption box five times. This ensured they were all the same height and width. To copy and paste an image, embellishment or caption box, select the settings button on top of your project. Then select Edit and Copy. This will allow you to make items in the same size and shape. See below for a visual explanation.
Custom Recipe Cookbook Tip #7: Have Fun With The Title And Recipe Book Cover
Book titles and photo book covers are two of my favorite subjects. And if you've been a long-time follower of our Facebook page or our blog, you'll know I've run several contests where I ask our fans to come up with creative photo book titles. The entries in our Day After Thanksgiving Book Title Contest were hilarious. I also loved the submissions from our Best Cookbook Title Contest and our Best Cupcake Book Title Contest. The titles in our Weekend in New York Book Title Contest were also very strong. Coming up with a fun title is just as important as coming up with an interesting cover image. But it doesn't take a tenured designer to create the perfect photo book and title. All you need to do is decide on the tone of your photo book and the theme. Be silly. Be sentimental. Be sincere. They all work. Here are a couple of fun book titles and book covers I really liked.
Humor is always a winner with me. And if you can turn a song into a book title, I'm in love. This fun bacon-inspired cookbook title is a winner!
Yum, yum and yum. This cover looks good enough to eat. Using one of your favorite recipes for the cookbook cover is a great way to repurpose an image! Adding a personal title and a sub-head that explains the recipe theme works great.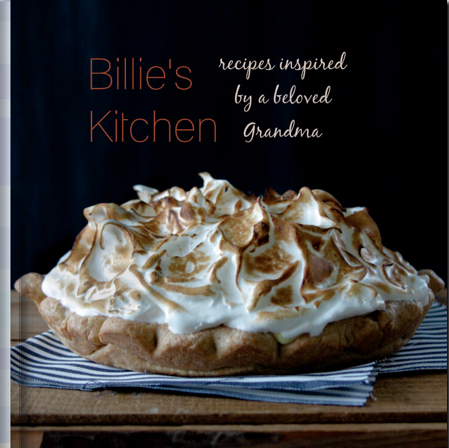 There's something really simple and sweet about this cookbook. I love the typography choices and the simple photo on a black background. A solid Picaboo background can add a nice backdrop to your photography.
I love the colors in this photo book cover. The wood grain alongside the yellow-curry soup is just beautiful. I also like how the soup bowl is a bit removed from the center. Play around with the position of your cover photo. Sometimes the best images are the ones that are cropped off the page.
White Zinfandel, salad, burgers and two guys bringing me food–this cover tells me this cookbook is going to be fun!  
Looking for cookbook resources? Check out:
How To: Make a Picaboo Cookbook, My Cookie Cookbook, How To: Photograph Food Using Natural Light and Billie's Kitchen: Recipes Inspired by a Beloved Grandmother.