With Mother's Day on it's way, this lovely book is a great example of a unique gift you can make for your mom. This book was one of the winners of our Two Weeks of Love Contest. But it's such a timely and beautiful book, we thought it deserved a revisit. At the end of this post, we've also included 5 tips to help you make your own Mother's Day Things I Love About You book.
***
This book was part of our Two Weeks of Love Contest. Last Valentine's Day, we shared 14 books submitted by our customers. The author of each book won a prize and had a chance to win a cruise from CruiseDeals.com. If you have any questions about this contest, please read the FAQs here. This book was made by Michelle for her mother's 60th birthday, it was appropriately titled: 60 Things We Love About You.
***
Why do we love this book?
There are 61 reasons to love this book. Number one through 60 can be found inside. But number 61 is the most important: Michelle made this book for her mom. She took the time to get her whole family involved, her siblings, her father and all the grand children. And the end result is a timeless book full of history, adventure and love.
How was this book designed?
Each page is devoted to do a different trait loved by her family and friends. And through each trait, we learn a little about this selfless Mom. This book is full of sweet and loving captions, fun embellishments and cheerful Picaboo backgrounds. It's really a joy to read. And we can only image how it was received!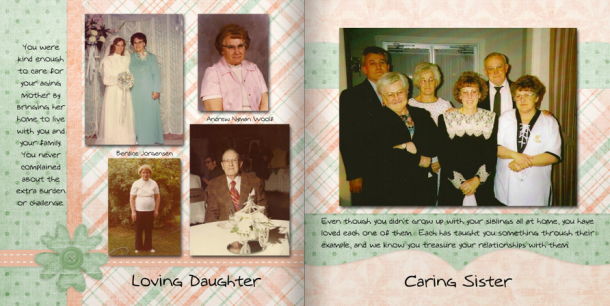 What makes this book so special?
Everything! The fact that an entire family worked together to create such an amazing book, is such a beautiful sentiment. But there's something else that's also really special about this book and it's the visual nod to all the roles we play in life: Mom, Wife, Daughter, Best Friend, Care Giver, Grandma, Roommate, etc. The list goes on. It's really an interesting thing to think about and acknowledge.
We also love how Michelle incorporated the grandchildren in the book. She asked them questions about their Grandma and their answers are perfect.
What does Grandma do in her spare time?
"She goes to space." ~ Keltic
If Grandma could go anywhere in the world, where would she go?
"Costco." ~ Kamdon
Why are Grandmas so important?
"Because they have Oreos." ~ Keltic
And lastly, this book ends with sweet, touching letters thanking and acknowledging a selfless Mom and a loving wife for all she's done.
Here's what Michelle had to say about her book:
This book was made for my mom on her 60th birthday. I made a list of things I loved about her and then found pictures that fit the traits. One of my favorites is that she's a survivor of breast cancer.  My family also go involved, too. Each of my siblings and my dad wrote a letter to her and then we asked the grandkids several questions about Grandma. All of it was meant to capture her life to this point and serve as a tribute to the woman she is. It was a priceless gift.
***
Want to make a gift like this for your mother? Here are some tips to get you started.
1. Make a list of all the things you love about your mom. Some examples could be: Her sense of humor, her giving spirit, her selfless nature, her love for your kids, her great advice and even her comforting mac and cheese. Then, find images and write down anecdotes that go with each attribute.
2. Get other family members and friends involved! Ask them to share things they love about your mom. The more input, the more fun this book will be to read.
3. Find old and new images of your mom. Include milestone events like photos from her wedding, her children, her grandchildren, birthdays and vacations. You can scan the images or take pictures of the old photos and upload them to Picaboo.
4. Find backgrounds that go perfectly with your pictures or make your own backgrounds using our Eyedropper tool. Consider framing certain photos with backgrounds. You can learn how to do this by reading this post.
5. Include a special note in print. Or if you want to write one in your own handwriting, use a ball point pen. They dry quickly, which is important for avoiding smearing or ink transfer. For more information on pen choices, read this FAQ.
Looking for more inspiring Picaboo Stories? Here are 14 amazing Picaboo Photo Books. These books are about kids, moms, baseball, love, weddings and so much more. Take a peek. We know you'll be inspired.