The older I get, the more I realize how important it is to make records of significant, life-changing events. We all experience these types of events as we make our way through life. Weddings, pregnancies, amazing vacations – these types of events are more the "run of the mill" type.  But once in a while we are given the opportunity to experience something that may only happen once in a lifetime.  Sometimes these events turn out well. Sometimes they don't. But they still shape and change us, hopefully for the better.
Living in the mountains of Utah, we are not at risk for hurricanes, typhoons, tsunamis or tornadoes. We are at big risk for earthquakes. But last December, a unique set of weather-related events came together and created a "downslope wind" which blew through our community for nearly 18 hours with sustained winds of over 100 mph. We were without power for almost 24 hours (some residents were without power for days), interstates were shut down, and trees, fences and roofs were uprooted, destroyed and ripped off.
At this point I would like to say that I do not in any way consider this natural disaster to be anywhere close to the scope of Hurricane Katrina, the recent tornado damage in the midwest or many other terrible events which have taken place worldwide. However, it was a significant event for our community and for me.
After the storm ended, I ventured out with my camera to see what type of damage had occurred. I was amazed at what I found and immediately began photographing the images in front of me. As I snapped photos, I tried to capture the full scope of the damage, but also made a point to take shots that focused on the details as well.  After the storm, individual residents and the county government were faced with the massive cleanup looming ahead. FEMA help was offered but turned down. The community organized residents and took care of it themselves. As the events unfolded, I continued to record the images with my camera.
I decided to make a photo book of my pictures, so that my family and I would be able to look back and remember what happened during that time.  Fortunately, there was no loss of life and no widespread displacement of population. For a natural disaster, this turned out very well. However, I do think that if this were not the case, I would still have wanted a record and memory of the events that took place because for me, they were huge.
Along with sharing my book, I thought I'd share six tips to help you record a significant event in your life. Here are my tips. If you have one you'd like to add, I'd love to hear it.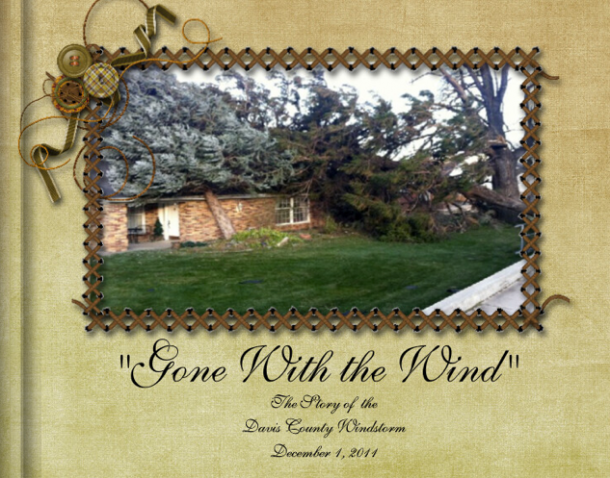 Tip #1: I selected a Classic Custom Cover book because I wanted the cover to be a photograph of some of the storm damage.  Plus, I think this cover makes the book very inviting.
Tip #2:  I used news reports and the local paper to get a lot of my information and figures because I wanted everything to be accurate. The numbers and statistics also help tell the story.
Tip #3: Include your personal story. I added how we spent time as a family without electricity. I also wanted to remember the kindness of our friends that helped us clean up and get our community back in shape. Sometimes it takes moments like these for the community to come together and act as one.
Tip #4: I opted for lay-flat pages because I knew this book would be passed around by everyone who came over. Lay-flat pages are much more durable and if you're planning on lots of two-page spreads, I'd highly recommend them.
Tip #5: When I was out walking around, I took pictures of everything. It was interesting to see the widespread destruction. I only wish this event occured  after our 365 Project Photography Tutorials. I would have loved to have implemented some of these great tips when I was taking my photos.

Tip #6: Organization of photos is important when telling this type of story. I organized my photos this way: I focused on the property damage at home, in our neighborhood and then the community as a whole. Then I covered the impact on transportation and business and finally cleanup and recovery.
Want to see the whole book? Here's my Gone With the Wind photobook. It tells the story of a moment in my town that changed me. Have you experienced a significant event in your life that has shaped or changed you?  Did you make or keep any sort of record?  We'd love to hear about your experiences and how you are keeping those memories alive.  Please leave a comment below or feel free to comment on our Facebook page.