How did you spend your summer? Did you hit the beach, grill out in your backyard or travel to Grandma's house? What'd you do with all of your vacation photos? Are they still on your phone or your memory card? If so, now's the time to upload those photo to your desktop and turn them into something memorable. Or if they're on Facebook and Flickr, that'll work too! The point is, it's time to move them into something more permanent and safe! And if you're looking for some ways to turn your vacation photos into souvenir crafts, we've got 6 fun ideas that cover all types of vacations. Including staycations!
First things first, let's talk about those images. If you need tips on organizing your photos, our pal and organizing pro, Molly Gold taught us 5 easy steps to help you organize your photos. You can read that later. Now on to the fun crafts.
Vacation Craft Idea #1: Cropped Photos Canvas Print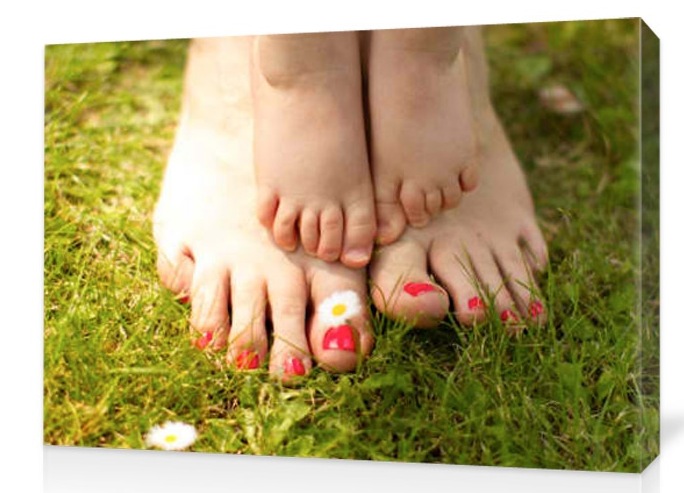 When I'm shooting on vacation, my photography skills are a bit more lax. It seems like I always get the shot after the shot. You know the one where the kids are hitting each other after smiling so sweetly? This summer, I took a ton of photographs of my daughter moving her head or punching her brother. Seconds before they were smiling nicely. But these shots are still salvageable if you do a little cropping! Cropped photos of your kids feet, shoes on the stairs and hands make for some fantastic photographs.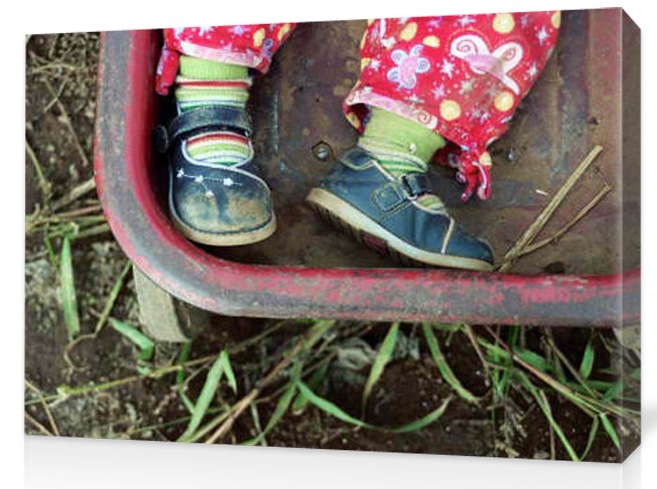 And cropping is easy! You can crop by using your computer's photo editing tools. Or take your photo into PicMonkey and crop away. And then, throw those images on a Canvas Print. This is a really neat way to turn a not-so-great photographs into works of art. Our Canvas Prints are available in many new sizes. Enjoy our 10×15 for $69.99, 16×24 for $99.99, 20×30 for $129.99 and 24×36 for $169.99. Make one now.
Vacation Craft Idea #2: Bucket List Calendar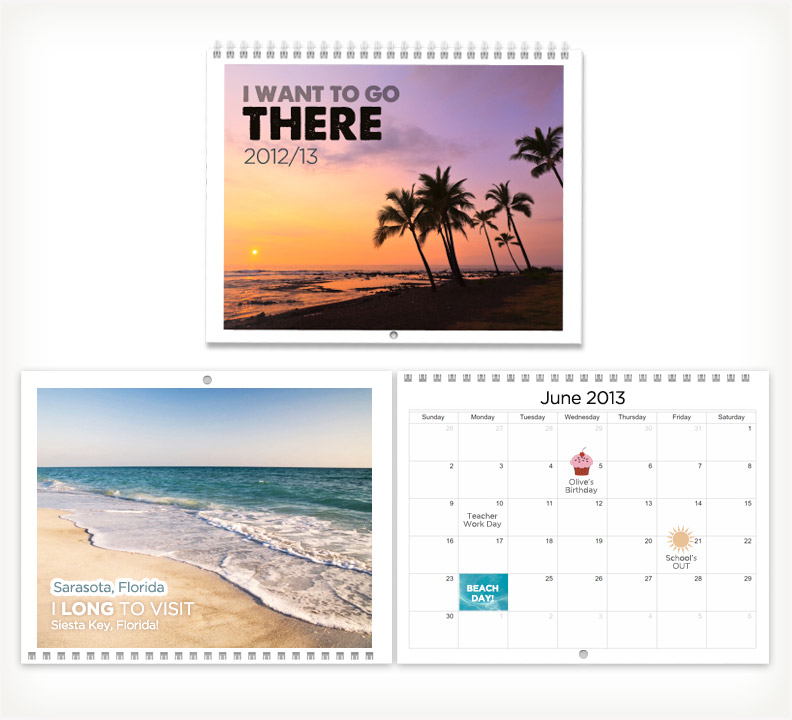 Sometimes a vacation isn't in the cards. And during those times, a staycation is still a great time to create some great memories. We had a staycation a couple of years ago and we spent some time in the backyard swimming in a blow-up pool, visiting TCBY and enjoying the crazy music at Chuck E. Cheese. During that staycation, we had some really great times. And of course, I took tons of photographs. These sort of photographs can easily become  a great Bucket List Calendar. Here's the idea. The pool in the backyard, I'd love to trade that in for a visit to a resort in Turks and Caicos with a lovely villa overlooking the beach and a crystal-blue pool. The photo of my kids dripping yogurt on their knees in the July sun? That would be a great August shot with the reminder that one day, we'll all be licking gelato from tiny cups in Sicily. Our Classic Calendar is available for just 19.99. Make one now.
Vacation Craft Idea #3: A Family Travel Journal Photo Book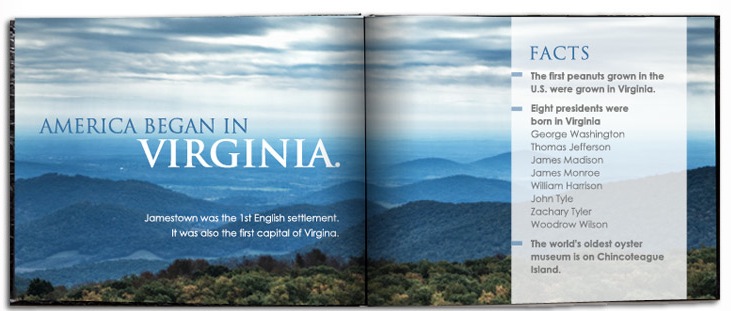 Do you visit museums and local monuments when you travel? If you do, these make great photographs for a travel journal that teaches your children about the states they've visited. Monuments, natural resources and historical figures are great additions to a travel journal photo book. Recently, my family visited Seattle, Oregon. We were true tourists. We hit the space needle, visited Pike Place Market, played in Lincoln Park and visited the Seattle Art Museum. I took tons of photos and when I got home, I looked up some key facts about Seattle and added them to my Travel Journal. This is a fun way to turn a photo book into an educational tool. Our Classic Photo Books start at $9.99 and comes standard with 20 pages. Make one now.
Vacation Craft Idea #4: A Summer Collage Poster
This year, my daughter and I took a trip by ourselves. It was the first time we spent three full days together, just the two of us. We saw a play, ate tons of macaroni and cheese and swam with two dolphins. It was an amazing trip and many of the photos will end up in our summer photo book. But I wanted to make something special just for her. Something she could own that would remind her of our special trip. And a Collage Poster was the obvious choice. Once again, not all of the images were that great but they still helped to tell our story. When you have extra photos you want to add but they're not up to par with your other photos, consider layering. This helps add dimension and texture to your project. An 8×10 Collage Poster is available for just $3.99, our 11×14 is available for $7.99 and our 16×20 is available for $15.99. Make one now.
Vacation Craft Idea #5: An Interactive Wall Clock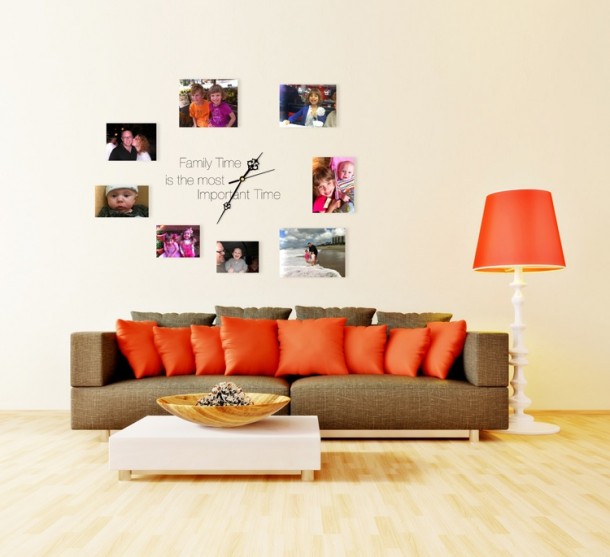 Vacation photos are a great chance to take candid images of your friends and family. Some of the pictures we've held on to for years were of my daughter riding the ferris wheel on vacation or my husband drinking coffee on the beach. Why not turn these images into a wall clock? This is a fun way to create a mural on your wall that documents the fun moments. To read the instructions, check out: 9 Easy Steps to Making a Canvas Prints Wall Clock. Our Canvas Prints are available in many new sizes. Enjoy our 10×15 for $69.99, 16×24 for $99.99, 20×30 for $129.99 and 24×36 for $169.99. Make one now.
Vacation Craft Idea #6: Map of Love
I love maps. I find the curves and corners of land really interesting. Like the way Florida ebbs and flows around the water in such an inexact way. I think that's really neat. I love how Italy is a boot and how Vietnam curves around the ocean like it's trying to sneak by when no one's looking. Maps are also great design elements and make for great backgrounds to your Picaboo projects. But instead of adding streets and states, why not add memories. Includes pictures of your road trip and many of the sights and adventures you experienced along the way. A fun traditional map can be easily be scanned and added to your Canvas Print, Collage Poster or Photo Book as a background. Then, upload your favorite memories from your trip. And well, the rest is history!
 Looking for more vacation photo book resources? Check out: 10 Must-Haves for your Next Vacation Photo Book, 10 Inspiring Vacation Books, 6 Fun Projects You Can Make with Your Vacation Photos & How To: Organize Your Photos in 5 Steps.