We've asked our Facebook fans to share their favorite Picaboo calendar features. Since many of our fans were surprised with all our cool features, we thought we'd share them with everyone. Plus, it is calendar season. And if you don't want to spend your whole year staring at another uninspiring bank calendar, now's the time to make your own custom one. 
Picaboo Calendar Cool Fact #1
Your calendar can begin whenever you'd like. If it's in the middle of June and you want a new calendar, change your start month to June. Or let's say you loved last year's Picaboo calendar and you want another one just like it. Bamm! Just start it at January 2013 and all the days and months naturally convert to 2013. To change the start date of your calendar, open Picaboo and select the month you'd like your calendar to begin in the left sidebar.
Picaboo Calendar Cool Fact #2
Picaboo remembers your important dates so you don't have to. From birthdays to anniversaries, enter the important dates once and Picaboo stores them for you.
Picaboo Calendar Cool Fact #3
Picaboo offers over 40 design themes. Some of our most popular themes are travel, babies, weddings, holidays and vintage designs. But if you don't find one that fits, don't forget we have over 20,000 backgrounds to choose from.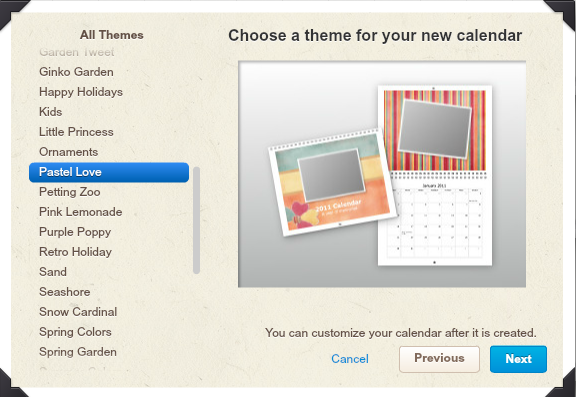 Picaboo Calendar Cool Fact #4
You can add images and text to date boxes. This means you can celebrate someone's birthday or anniversary with a picture and a caption. In each date box, we've also included some photo editing tools that allow you to zoom in or out, adjust the center of your image or rotate your picture 180 degrees. You can also add backgrounds to the date boxes to give your calendar more color or play off a holiday.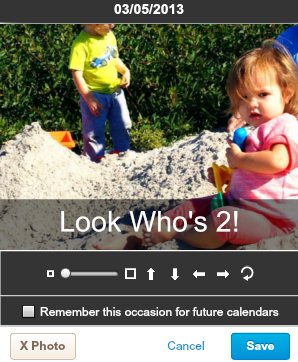 Picaboo Calendar Cool Fact #5
Picaboo features over 300 pre-set layouts. This allows you to use as many or as few images on your calendar as you'd like. Choose from one image to fun collages with over 10+ images. And don't forget, Picaboo now offers heart, star and circle-shaped photo wells.
Did we miss one of your favorite features? If so, leave it in the comments below!
Don't miss out on our current specials. Get started now!