This week was all about spotting the colors red, white, and blue! You guys beautifully captured American flags, summer fruits, to architecture and more! You did an outstanding job finding this great color combination just about every where you went.
From to the traditional to the unexpected, here are this week's 15 Red, White, & Blue photographs!
15 Red, White, & Blue Photographs
1. Mary Richards – I love the setup of this shot. I love that you put the color in the background making the sparkler really stand out.
2. Wendy Dunne – This shows that you can find colors anywhere! Love your take on this week's challenge.
3. Barbara Berg – What a cutie! And look at those lashes! Keeping your background simple really made your subject stand out.
4. Kathy Snow – Look at that clear blue sky! The red balloons really pop against it. I also really like the composition of the balloons.
5. Elizabeth Bianchi – I wish I could find some rustic treasures like this one. This fits the challenge perfectly!
6. Linda MacNeil – Love the reflection on the lake! The hints of blue and red are subtle but keep the photo simple.
7. Terri Sims – I love a photo of the American flag against a crisp blue sky!
8. Brandi Bieber  – Great use of leading lines to draw your eye to the flag! That sunflare is in the perfect spot to highlight the flag.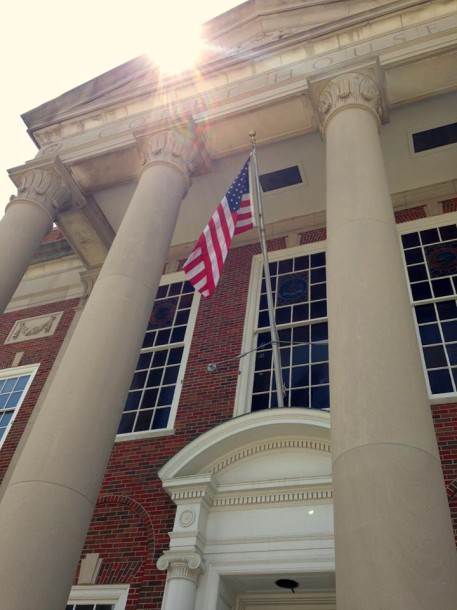 9. Kelly MacCleary – I am so jealous of your palm trees! This one really stood out to me not only for the flag in the foreground but the red, white, and blue bunting in the background.
10. Heather Davis – Great capture of red, white, and blue in nature! Colors are everywhere if you just stop to notice them.
11. Debbie Marker – Levi's are definitely an American classic! I like that you placed another pair of jeans in the background to give your photo some depth.
12. Bea Sweeney – This looks like a cute, cozy cottage! The colors are perfect against the blue sky.
13. Laurie Brown – Someone is very festive! You can't go wrong with a tutu and a cute headband!
14. Linda Pierce – Great job on the post-processing! These two images work perfectly together.
15. Melanie Barrett – I love how you played with the lighting in this shot. It really highlights the stars on the garland.
 Now that you've seen them, tell us which photograph is your favorite!
Missed the tutorial? Check out how to photograph red, white, and blue!
***
Feeling inspired? Turn your patriotic photos into beautiful photo books, canvas prints, calendars and more! Get started now. Don't miss out on our latest special offer.