This week, we talked about understanding contrast in photography. You guys… you nailed it! Your creativity with both color photographs and black and whites really blew me away. Your photos were engaging, filled with emotion, dimension and drama.
Here are this week's 15 photos with contrast!
15 Photos with Contrast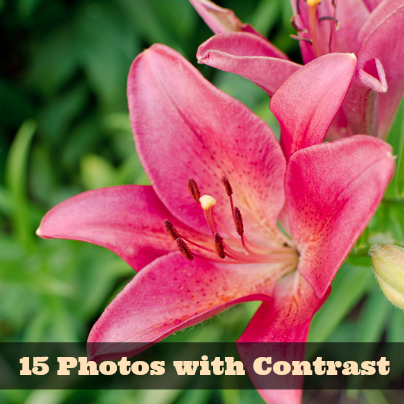 1. Linda Pierce – I love the varying shades of  grays in this photo. It is very mysterious!
2. Susan Padilla – This is a great example of a high contrast black and white. The shadows on the repeating pattern of the building give it depth and dimension.
3. Colleen Richart – Great use of contrasting colors. By using a bold color on your foreground with the contrasting green in the background, your flower really pops!
4. Leslie Gonce – I love the colors in this photo! Your darker toned background provides a great backdrop for the bright tennis ball! I also love the white diagonal line cutting the photo in half.
5. Jan Sumner – Love, love, love! I love shooting in front of an open door and I love that you used it as backlighting instead of side or front lighting. I would have stepped back just a tad to catch the entire reflection on the floor for symmetry.
6. Sarah Annesley-Verhoog – Your photo looks like a painting! The high contrast lighting worked perfectly with the black background and the white flower.
7. Kari O'Gorman – I really like the high key tones in this one., like the bright blue sky. I like the placement of the flag on the left hand side following the rule of thirds.
8. Sue Beresford – This is a good example of a low contrast black and white. There are a lot of shades of gray with little whites and blacks. Love the view point!
9. Debbie Marker – Great capture! I bet that little guy didn't hang around much longer. The white flowers really helped him pop out and not get lost in the flower.
10. Peg Brantman – I really love the patterns in this photo. The red roofs and shadows along with your angle give the photo dimension.
11. Judy Macedo – Not only does your photo have contrast but you also give a sense of size in this one.  The bright blue sky is breathtaking!
12. Lee Franze – This black and white is stunning! I love the use of sidelighting to add shadows and contrast.
13. Lauren Chapelle – I love the mix of muddy and girly in this photo! The pink flower really pops out.
14. Susan Goudge – This photo has a lot of character. And, converting it to black and white really helps bring that character out.
15. Kessie Jennissen  – This could easily be in a travel magazine! It's so interesting. My eye is immediately drawn to the fluffy white cloud then down to the details of the hut.
 Now that you've seen them, tell us which photograph is your favorite!
Missed the tutorial? Check out understanding contrast.